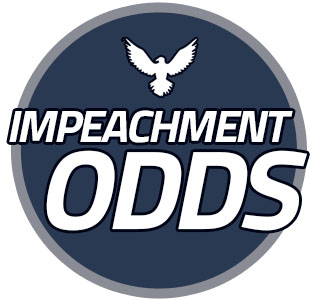 The most popular political betting market of 2019 is, without question, Presidential impeachment. As a result of the ongoing House inquiry into Donald Trump's alleged "high crimes and misdemeanors," impeachment has been dominating the mainstream media like never before. And that means that the best offshore sportsbooks are offering impeachment betting odds.
If you want to legally and safely wager on Donald Trump impeachment, you can do so at any reputable online betting site that operates outside of US jurisdiction (as domestic sportsbooks do not offer political betting odds of any kind). Signing up is quick and easy, so if you think The Donald is in for it, you can get in on it, too!
Top Sportsbooks For Betting On Impeachment
Current Donald Trump Impeachment Odds
Any President can be impeached, but the current hotness is obviously Trump impeachment. If you're looking for impeachment odds on President Trump, you will only be able to find them at the most trustworthy online political betting sites.
Of course, you'll notice that different sites have different lines, as each operator adjusts their odds to reflect the unique betting action taking place on their boards. Remember to always shop lines to find the best impeachment betting odds possible.
Trump Impeachment Odds According To Democrats
While there are no specific party-line odds on impeachment, there is polling data available that shows Trump impeachment is far more popular among Democratic voters (and, by extension, Democratic bettors) than it is for those on the other side of the aisle.
In the latest polls, a whopping 83.3% of Democrats support Trump's impeachment. However, that doesn't mean that all those voters actually believe he'll be impeached. The best metric we have for that is the action reflected in sportsbook lines, and those seem to favor the odds of impeachment, but not by remotely as high a margin.
Trump Impeachment Odds According To Republicans
The potential impeachment of Donald Trump, according to Republican voters, is hugely unpopular. Only 11.7% of polled GOP voters support the initiative. Of course, it is a near certainty that a higher percentage actually believes Trump will be impeached by the House.
This is especially true because Trump himself has called for his own impeachment, with a White House spokesman stating that a Senate hearing is the only way the POTUS will get a fair shake to make his case:
"President Trump wants to have a trial in the Senate because it's clearly the only chamber where he can expect fairness and receive due process under the Constitution."
Is It Legal To Bet On Presidential Impeachment?
You can legally and safely engage in Presidential impeachment betting at licensed offshore sports betting sites. These services operate outside of US jurisdiction, so laws like the Wire Act (1961) and the UIGEA (2006) have no impact on their ability to offer real money political betting to US residents.
Note: Washington and Connecticut are the only two US states that have laws against all forms of online betting. If you live in either state, you can still sign up and wager on impeachment at offshore betting sites, but caution is advised. While no WA or CT resident has ever been fined or arrested for betting over the Internet, you must proceed at your own risk, lest you yourself be impeached!
Why Don't Domestic US Betting Sites Offer Impeachment Odds?
Domestic US betting venues and websites are popping up all around the country now that sports wagering has been federally decriminalized. However, a few wagering categories seem to be off-limits, with political betting being one of the most notable excluded markets.
While individual states could allow political betting, most have explicitly disallowed it. The rationale is unclear, but it likely has to do with political propriety, as legislators are unwilling to "cheapen" their posts by allowing individuals to place wagers on House of Representative's odds or US Senate odds.
State legislatures are also out of bounds (aren't they always!), as are all manner of political props and futures, including Presidential impeachment. Offshore books reliably cover these markets, however, so you can always bet on politics online.
Are Impeachment Odds Always Available?
Impeachment odds haven't always been available, as the impeachment process itself is very rare at the Presidential level. As a result, you've only typically found impeachment betting opportunities during a particularly polarizing or contentious Presidency, or when a President has been credibly accused of committing an impeachable offense.
That said, Trump could be establishing a new norm, and American politics are more divisive than ever before. In the future, with the precedents set in the current media and political landscapes, impeachment odds may be a perennial sportsbook offering, especially given their popularity at the betting boards.